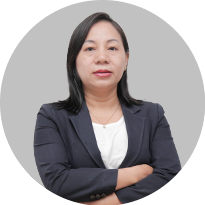 IMPLEMENTERS
Ms. Huynh Thi Thu Hoa
| | |
| --- | --- |
| ID | BGS2006 |
| Area: | Ho Chi Minh |
| Duration | 3080 hours |
| Date of certification | 16/09/2022 |
She is now working as the Project Manager.
She graduated with a Bachelor of Commerce in Economics.
She has 20 years of experience in Auditing, Controlling (Audit), Building Organizational Structure, Capacity Evaluation System, BSC-KPI System, 3P Compensation, etc.
She participated in projects: DIC Group, DAT Engineering, DKRA Vietnam, Tratimex, Amber Capital, OPC Pharmaceuticals, Bidiphar Pharmaceuticals, Khang Hy Construction, Phong Phu (PPJ), Phong Lien, Tam Thinh Vuong, THANH PHAT Stainless Steel, Filmore Real Estate, Phu My Hung, TPL Shipping, Ricons Group, Tao Tin Phat Real Estate, HuynChi Company, Duy Hung, Dong Hung, City Land, HODECO Company, Lasuco Group, Binh Duong Housing Development ( TDC), Thuan Phat Hung, Long Thanh Gold, FICO, Dai Tan Viet, ADI, Nature Food, Phat Dat Coporation, Bitex, An Khue, Dong Tam, Lix, etc.
Currently, she works as the Project Manager and participates in consulting projects on the business development model of BGS Global.
REGISTER FOR CONSULTING
Any problem in your business? Ask the Implementer