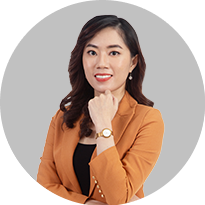 IMPLEMENTERS
MBA. Nguyen Thi Hoang Anh
| | |
| --- | --- |
| ID | BGS2018 |
| Area: | Ho Chi Minh |
| Duration | 4889 hours |
| Date of certification | 09/03/2022 |
Business Development Manager at BMG Business Consulting. Member of the National Advisory and Support Council for the Southern Startups (VCCI).
She graduated with a Master's degree in Human Resource Management.
She has more than 10-year experience in HR (human resource) Training and Consulting, Building Management System, Capacity Assessment, BSC-KPIs, 3P compensation, etc.
She participated in consulting projects: DKRA Vietnam, Van Duc Tien Giang, DIC Group, I Buy Beauty, TCM, Bidiphar Pharmaceuticals, Phu (PPJ), Phong Lien, Tratimex, Amber capital, OPC, Thanh Phat, etc.
the Director of Business Development is now at BMG Business Consulting.
She is a member of the National Startup Advisory and Support Council – The Southern region (VCCI).
REGISTER FOR CONSULTING
Any problem in your business? Ask the Implementer