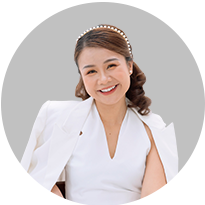 IMPLEMENTERS
MSc. Duong Phuoc Tra My
| | |
| --- | --- |
| ID | BGS2011 |
| Area: | Ho Chi Minh City |
| Duration | |
| Date of certification | 24/11/2022 |
Chuyên gia BGS Global
She received an excellent GPA and holding a Master's Degree in Marketing and Creativity in Italy in 2020. Besides, she has 10 years of working experience in Marketing in many different fields ranging from PR internal & external, corporate communications & events, to branding & digital, product & channel marketing, etc. More importantly, she also has real-life experience with multinational Financial and Insurance Corporations, which can be mentioned, including Manulife Financial, Chubb Life Insurance, Sun Life, Hafele.
Ms. My Duong is currently a BGS Global Implementer, a growth-driving model for small and medium-sized enterprises (SMEs) developed by the BGS Global Implementer Council.
She now teaches subjects on Marketing, Communication, Content MKT at AiM Academy
She is also the creator of the Content Page, which is dedicated to sharing information about Marketing and Content.
As part of her responsibilities, she strives to instill positive attitudes and values in the individuals and organizations with whom she has the opportunity to work.
REGISTER FOR CONSULTING
Any problem in your business? Ask the Implementer