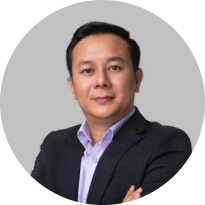 IMPLEMENTERS
MBA. David Tan Nguyen
| | |
| --- | --- |
| ID | BGS2001 |
| Area: | Ho Chi Minh |
| Duration | 6898 hours |
| Date of certification | 05/04/2020 |
Founder and Executive Chairman of BrainMark
He graduated with a Master of Marketing in 2005, he is now taking over the position as the Director of the Institute of International Management. With more than 20 years of experience in the fields: Business Development, Marketing, Branding, Management System, Corporate Culture, etc.
Master Nguyen Thanh Tan once held the positions as the Executive Director, Deputy General Director, Marketing Director, Brand Director, for domestic and international companies and enterprises, etc.
In Vietnam, MBA Nguyen Thanh Tan has participated in Marketing, Branding, Corporate Governance training and consulting projects for enterprises: FPT Corporation, VNG Group, Long Thanh Group, Dong Tam Group, Sao Mai Group, Bitex Group, Vinh Hoan, Roto Mentholatum, DHG Pharma, Traphaco, Fiditour, Padanus, Givral, DKSH, Bristish Council, Tiger, Vinasoy, Thach Bich, Dung Quat Beer, Ladophar, Phu My Hung Group, Phat Dat Group, Dat Xanh Group, Nam Long Group, CityLand, Ban Viet, Ricon, Becamex TDC, Boho, SJC, Saigon Food, Lix, Viet Tien, An Phuoc, Thai Tuan, Belluni, Valentino Creations, Vietjet, HTV, Saigontel, VACS, Viet An Group, TST Tourist, AST, etc.
He has run more than 500 consulting projects on Business Development, BSC-KPI, Corporate Culture and organized training programmes for more than 58,000 students. In addition, he is the leader of consulting projects to develop local and corporate brands according to the orders of the Committees of the provinces, departments of Vinh Long, An Giang, Dong Thap, Hai Phong.
REGISTER FOR CONSULTING
Any problem in your business? Ask the Implementer